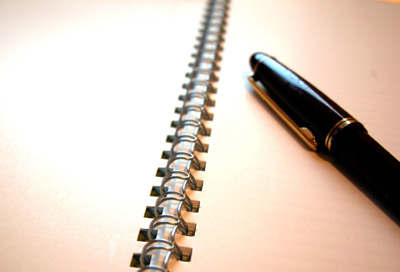 This picture gives me goosebumps. I love looking at these blank journal pages, just waiting to be filled with anything you could dream of. There are just so many possibilities at this moment, before pen hits paper. It's magical.
My journal is a bit of a curious thing. It contains my life, expressed in all sorts of interesting ways. There are those pages filled with ramblings about my day. Things that I love, things that bother me, or excite me, things that anyone else would see as mundane were they to read it. But all these things work together to make me who I am, and they're all recorded in this book.
The pages of my journal also hold lists. Lots and lots of lists. Anything from a packing list, to a guest list. Sometimes even shopping lists! I always like to keep things organized, so my journal contains an insane number of lists.
My journal has a crazy amount of poems and song lyrics, too. Seriously, it could be anything! I have a quote from Horton Hears A Who, and lyrics from a song by Skillet, and a poem I wrote about me and my boyfriend. There are some drawings as well, and if you look at the first one and the last one, you can definitely see an improvement!
Reading all the old entries and tidbits almost brings tears to my eyes! I've grown so much, and learned so many things. For instance, when a teacher asks you, "Why are you and your boyfriend late for class, where were you?" Don't say, "Around..." It sends the wrong message... :/
The title on my journal is, "I'm still learning. ~Michelangelo" I thought it suited. I'm still young, but I hope will never ever stop learning. :)
~Brie